Two 16″ pillows: a Sampler Pillow and the Mitered Celtic Pillow, which has a central square and a deep mitered border. The colors were inspired by an old Japanese print; this was my first experiment with using a source of inspiration to choose colors. The original uses 14 colors, but you can certainly use as few as 2 to create a lovely pillow. A yarn pack is available for this design.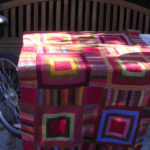 Parcheesi Afghan
The Parcheesi Afghan is a lap-sized throw in more than 20 colors of Jamieson Spindrift. No specific colors are specified in the pattern–use your stash and your imagination to make a blanket as unique as you are!
The pattern is available free of charge in exchange for a donation of any size to Heifer International (www.heifer.org), an organization that works tirelessly around the world to solve the problems of poverty, hunger, gender inequity, ecological degradation, and lack of education.
Most sweaters are more flattering if they have shaped shoulders, that is, shoulder lines that follow the natural slope of the shoulder from neck to arm. However, making this slope used to require that the sweater be knitted back and forth at the shoulder–and I, for one, dislike purling in color pattern. So I devised a method for creating a sloped shoulder while knitting in the round. The photo shows a bird's-eye view of the shoulder. This free download is my gift to the adventurous knitter who wants a well-fitting sweater!
Eagle-eyed knitters at my workshops have noticed that my Redbud Vest differs slightly from the published version: it has a different color progression in the armbands and neckband. Some of them requested a pattern for the original bands. Given that your wishes are my command, you may find the alternative pattern for the bands on this free pdf.