Description
The Joy of Color is my 3-day Design Your Own Fair Isle workshop expanded and in written form. I demystify the design process, walking you through it step-by-step so you can create the design you want: classic, modern, bohemian, folkloric, subdued, bright—whatever you can dream of!
The Joy of Color is divided into 6 chapters:
Getting Started
Color
Motifs
Garment Shapes
Techniques
Getting It Done
The Techniques chapter answers the questions that most often come up in class. This is not a project book (there are no patterns in the book—it's all about YOU making YOUR OWN designs!), but in the back you will find several blank templates for small projects.
Every chapter includes a workshop section and recommended resources for further exploration along with several case studies of my garments. You can hear from 13 students about how they designed their sweaters using the process outlined in this book.
154 pages, indexed, sewn signature, flexi-bound (flexibinding is a very secure and flexible binding that allows the book to lie flat), reinforced cover paperback.
PDF Version: The book is also available as a static pdf (there are no internal links). If you order the paperback and the pdf from me, I will give you a $10 credit. (Sadly, there's no way to set up my website to handle them as a bundle!) If you live outside the US please use the following shipping address when placing a PDF order to fool the system: 1153 the Alameda, Berkeley CA 94707
When you place your order you will see a page like this: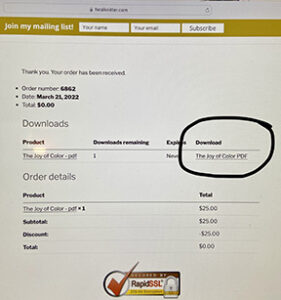 Be sure to click the download link!
Customers outside of the US:
CANADA: please order from Sheeps Ahoy in Ottawa
UK/EUROPE: please order from Knitsonik in the UK
Do you want me to sign your book? Please make a note in the cart comments!
Retailers: I offer wholesale terms. Please contact me.