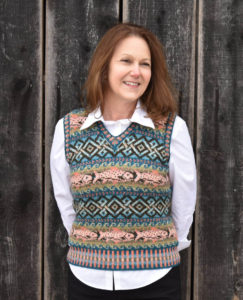 Design Your Own Fair Isle Vest
Friday Harbor, WA, February 16-21st, 2020
There's something magical about the San Juan Islands in the northwest corner of Washington State: green islands, exposed granite, evergreens and madronas, rocky beaches and driftwood, open meadows, the everchanging waters, soothing ferry rides, and (now and then) the views of snow-covered mountains. There are some 400 islands (not all are inhabited); the four largest are connected by a car-ferry system.
The Workshop
I've become fascinated by the possibilities of banded Fair Isle designs. They offer limitless opportunities for playing with color and motif, and when the bands are stacked on top of each other they create new and unexpected pattern relationships. And the space where the bands meet presents its own chance for exploration. Banded designs can be bright or subtle, playful or sophisticated. Even better: they can be easy to put together! We will spend 15 hours in class together, covering color, motif, vest pattern, and techniques.
The Place
We'll be staying at the Island Inn at 123 West in Friday Harbor. Our meals will be catered by the marvelous Deb Nolan.
Please download the full retreat description, which includes instructions for how to sign up. Information about the retreat hotel can be found here.