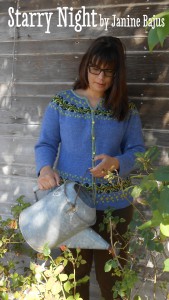 Feral Knitter Winter Retreat
Friday Harbor, WA, March 22-27th, 2020
November 16–19, 2020
There's something magical about the San Juan Islands in the northwest corner of Washington State: green islands, exposed granite, evergreens and madronas, rocky beaches and driftwood, open meadows, the everchanging waters, soothing ferry rides, and (now and then) the views of snow-covered mountains. There are some 400 islands (not all are inhabited); the four largest are connected by a car-ferry system.
The Retreat
Many of my Fair Isle design students have expressed a desire to have my feedback while they work on new designs, but they don't want to repeat a full design workshop. They also want time and space to explore a new idea, away from the distractions of everyday life. Maybe someone else to cook and clean the bathroom . . . .
If this describes your dream, the Feral Knitter Retreat is planned with you in mind! For four days you will have the opportunity to work on your design, getting the degree of feedback you want. On the first day I will be available to each participant for a half-hour consultation. On the remaining three days I will be in the knitting room every morning (and most afternoons), answering questions, demonstrating techniques, and giving feedback more casually as your project progresses. The yarn playpen, complete with 212 colors of Jamiesons Shetland Spindrift yarn for swatching, will be available for the entire retreat. 
You will be free to come as go as you please during the day; the knitting room will be open all day long. We want to balance deep creative work with relaxation and play!
To foster a sense of community we will have lunch together, but dinners will be on your own. 
Prerequisite
You must have taken one of my 2-day Fair Isle Color or 3-day Design Your Own Fair Isle workshops—I will not be teaching the basics at this retreat, although I will demonstrate techniques as requested.
We'll be staying at the Island Inn at 123 West in Friday Harbor. Breakfast is included; other meals are on our own at any one of the many local restaurants and bakeries.
Please download the full retreat description, which includes instructions for how to sign up. Information about the retreat hotel can be found here.