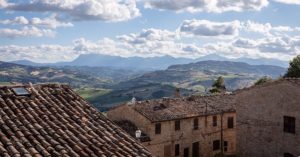 The Colors of Italy
June 11-18, 2022
Imagine a week spent exploring the Marche region of Italy: remote hilltowns, rugged hills, agricultural valleys. Accented by visits to artisans and markets. Then relaxing at the pool and enjoying marvelous meals from local ingredients. 
Add to this vision 15 hours of playful exploration of color in the Fair Isle tradition, choosing from 212 shades of Shetland yarn to capture an impression of the landscape. We will begin with instruction about the very specific way that color and value are used in Fair Isle design. Then, over the next few days, you will create motifs and choose colors—small postcards of your vacation! You might choose to expand these swatches when you get home to make a hat using the template I provide. 
Non-knitting companions are welcome, too—there is plenty to do while we play with yarn!
Like most events scheduled for 2020, this trip has been postponed twice now—we won't have exact pricing for 2022 for a few months, but I do not expect much to change. Follow THIS LINK to find the full itinerary and more information.