Welcome to Feral Knitter! My goal is to create a place where you can find the yarns, books, and patterns you need for a lifetime of colorful knitting, whether traditional Fair Isle, nontraditional stranded patterns, or lacework.
I carry 210 211 212! colors of Jamieson Spindrift; the yarn pages are divided into color families to help you make your decisions. And, if that isn't enough for you, I also carry all 50 colors of Elemental Affects Shetland fingering weight yarn! Paradise…. If you are swatching for a new design, every color is also available as an inexpensive 20-yard mini-skein!
Enjoy your knitting!
Janine Bajus, Feral Knitter
What's New
Looking Forward to the Fall: A New Class

Several people have requested some form of follow-up class for students who want more input into their designs, one-on-one technique hand-holding, design solution brainstorming, or a chance to work with the yarn playpen.
OK, then–let's see how this can work: Enter the Ongoing Feral Play Date experiment.
What It Is: I will be on hand to cheerlead, to critique, to give suggestions, to demonstrate techniques–whatever is needed to keep you moving on your project.
What It Is Not: These play dates are not substitutes for the standard workshops. I will not be teaching–rather, I will be reinforcing what was taught in the workshops, helping people get past roadblocks and moving again.
Length: 3 hours (come for all 3 hours or just drop by).
Where: My home in Berkeley, California.
Cost: $20 for each play date. Includes access to the complete collection of Jamieson's Spindrift and up to 115 yards of yarn. And chocolate.
Prerequisite: For people who have taken any of my classes in the past.
Dates: Sunday, October 20th; Sunday, November 17th; Sunday, December 15th.
Times: 10:00 to 1:00
Reserve a spot: Drop me a line (janine AT feralknitter DOT com) at least 3 days before the playdate  to let me know you plan to attend. We'll see how this works out!
September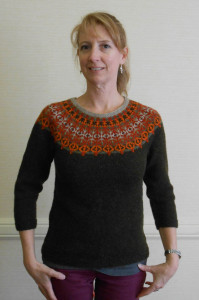 Finally! The Helsinki Sweater pattern is available! This seamless yoke sweater with short-row and waist shaping for a flattering fit, is perfect for fall weather. The large expanse of stockinette is easy to knit while sitting in the bleachers  and the small geometric yoke motif makes good fireside knitting, easy enough for someone new to Fair Isle. The pattern is written for 6 sizes, from 33″ to 53″.
Kits for every size can be found here.

Later August 2013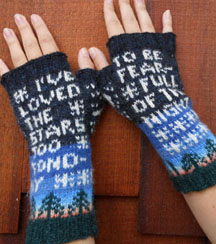 "I've loved the stars too fondly to be fearful of the night." This line from a poem by Sarah Williams deserved to be knitted into a pair of fingerless mitts. The pattern is available as a pdf download, and a kit of all 11 colors (5 balls and 6 miniskeins of Spindrift) can be found here.
New Patterns
I've added two new Schoolhouse Press pattern leaflets to the shop. Joyce Williams' Acorns & Tumbling Blocks Pullover in 4 sizes is a 2-color, classic pullover made special by the use of Latvian braids. I'm very happy that this design is back in print! Elizabeth Zimmermann's doll clothes leaflet includes some 18 versions of EZ classics re-sized for Sasha dolls! Ah, the lure of small clothes! And an especially fun way to learn some EZ shapings without launching into a full-sized garment. If you take the time to do the math, these doll clothes can be made to fit the 18″ dolls so popular now.
August 2013 Over the last year I've noticed a significant uptick in small orders of certain colors of Spindrift. I decided to investigate what was behind this pattern, and I learned that fly fishermen and women using the tenkara approach have discovered the value of Shetland Spindrift yarn for tying flies! According to the Tenkara USA website, tenkara is "the traditional Japanese method of fly-fishing where only a rod, line, and fly are used… Tenkara is not just about the absence of a reel, it includes a different approach to fly fishing. With few elements between you and the fish, tenkara can be interpreted as a philosophy that takes fly-fishing down to its most fundamental level and puts a stronger emphasis on technique than on gear." Perfect!
Spindrift yarn, with its depth of color, mimics many different types of insects when it is wetted. There are many video tutorials online that show how to tie flies with Spindrift. The most commonly used colors are 290 Oyster and 183 Sand, but I've had orders for many other colors, as people experiment to find the perfect fly for their location: Bracken, Buttermilk, Fog, Leprechaun, Mist, Oxford, Sunglow, Thyme, and Wren, to name a few.
If you are a fly fisherman who has landed on this site, may I recommend the affordable mini-skeins? At $2.15 for 20 yards, you can afford to experiment!